The goal of this app is to practice mindfulness and gratitude. It is geared towards working people and students who deal with many stressors and usually end their day around sunset or "Golden Hour." This app is specifically aimed at reaching city dwellers who often overlook their natural surroundings. This app will encourage them to stop at a beautiful place to unwind instead of going straight home and crashing. Taking an extra hour to collect themselves before going home to make dinner. Promoting a customizable, mobile, self-care, practice by utilizing the beauty and consistency of the sunset.
This app was designed to map you to the closest spot to view the sunset from your current location (walkable, bus). The time it takes you to get to the sunset spot is factored in so you will arrive on time to view the spectacle that is "Golden Hour."

Under the location icon in the menu, you can find directions to your desired sunset viewing location. You can also find photos posted by other members of the Golden Hour community so you know you're in the right spot. Use the hashtag #MyGoldenHour to post your experience on social media and spread mindfulness. (Before or after your meditation of course)
Once you arrive, you will have the option to go through a guided meditation or disable your phone. This feature was added with the intention of grounding you in your natural environment.
You can control how much time you spend mediating or off of your phone. Once that time is complete your phone will no longer be disabled.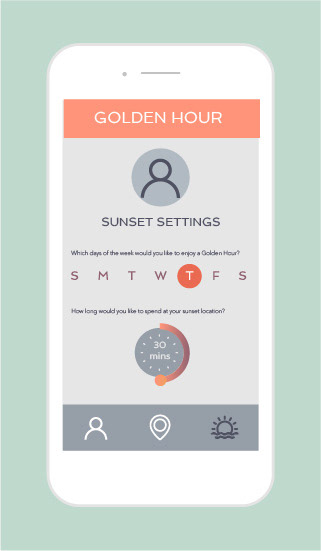 Under the sunset icon lives all of your "Golden Hour" data. This includes a calendar to schedule when you would like to view the sunset within each month. You can select a day and it will bring you to a menu called "Sunset Settings" which allows you to schedule which days of the week you would like to utilize the app and for how long you would like each meditation to last. 
Within the profile icon, you can choose between guided mediations or choose which options to disable your phone. You can save old mediations and discover new ones. You can even upload audio from other sites that you find helpful.